Costa Rica vs. England: 2014 FIFA World Cup | Group D Match Preview
Costa Rica vs. England
2014 FIFA World Cup
June 24 | Noon ET | Estadio Mineirão, Belo Horizonte, Brazil
TV: ESPN2/UniMas in US, Sportsnet in Canada
Costa Rica enter the final matchday in group play with high spirits and an eye to an improbable first place finish in Group D, while England seek to salvage a thoroughly disappointing run with a win against the upstart Ticos.
---
CAN COSTA RICA MAKE IT 3-FOR-3? Entering the tournament, Costa Rica were given essentially no chance, especially in a group with three former World Cup champions. But after grabbing a shock win over a Luis Suárez-less Uruguay, the Ticos showed their first result was no fluke with a commanding performance against Italy. Coach Jorge Luis Pinto has settled on a formula that's worked wonders so far, with defensive solidity providing the backbone and talented attackers picking their spots as they did with Bryan Ruiz's goal against the Italians.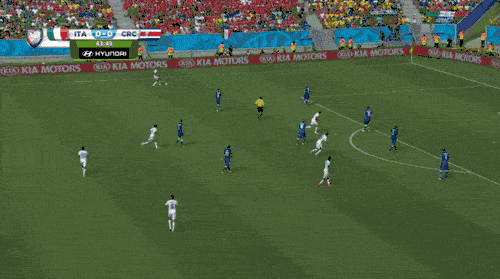 WILL ENGLAND BE MOTIVATED IN THEIR FINALE? The overwhelming sentiment in England was that the Three Lions would likely not come close to winning the World Cup. As it turned out, their fears were realized after just two games, guaranteeing their worst-ever placing at a World Cup.
England will likely still want to leave the tournament on a positive note, especially with the press at home eager to deliver postmortems on a disappointing tournament. Meanwhile, the controversy of the day in England concerns players who are not even at the tournament, as captain Steven Gerrard fielding questions about colleagues turning down past call-ups.
    WHY COSTA RICA WILL WANT FIRST PLACE   :  Besides the bragging rights, that is. If the Ticos win Group D, they will most likely avoid Colombia in the Round of 16. While no game in the knockout stage will be easy, it stands to reason that a game against any of the other three teams in Group C (Ivory Coast, currently sitting in second place, Japan, or Greece) will prove a better draw than the tricky Colombians.
---
THE STAR YOU KNOW:
Bryan Ruiz, midfielder, Costa Rica -- The captain scored a terrific goal in the win over Italy, and is enjoying a solid tournament thus far. With English players knowing him so well from his days with Fulham, however, it will be up to him to raise his game once more and deliver more of this:
THE PLAYER WHO WILL SURPRISE YOU:
Frank Lampard, midfielder, England -- Call it a hunch. Lampard is set to start in midfield and captain the side in what is likely his international swansong. After scoring (but failing to get the referee to award the goal) four years ago, will Lampard be able to finally put one on the board in his third and final World Cup?
Read More