Brazil 1, Germany 7: 2014 FIFA World Cup | Semifinal Match Recap
Well it turns out that Neymar wasn't the only Brazilian that couldn't participate in this semifinal. It was the whole team.
Germany came out and drubbed Brazil in the first half, scoring five goals in the first 29 minutes to put away the hosts before most of us had time to catch our breath. The goals came so fast it was hard to distinguish one from the other.
The most notable was Die Mannschaft's second goal which was scored by Miroslav Klose. In the process he passed Ronaldo for the most goals ever scored in the World Cup with 16.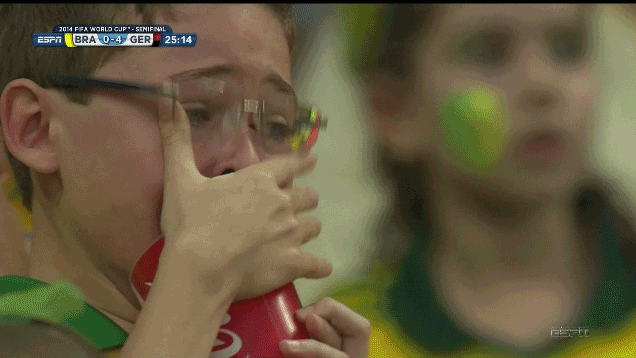 Brazil showed some fight to start the second half, forcing Manuel Neuer into a couple tough saves, but those efforts quickly vanished as the humiliation continued. The 7-1 scoreline marked the largest ever margin of victory in a World Cup semifinal, besting West Germany's 6-1 defeat of Austria in 1954.
UTTER DOMINATION: We have never before, and may never again see a half quite like we saw in the first one in this game. Germany came out and stunned Brazil by scoring five goals in the first half, showing superior tactics, passing, movement and discipline. The Brazilians did not know what had hit them and failed to adjust in time.
It is past that time... #BRAGER pic.twitter.com/KQfAZeR3P1

— The Whistle (@TheWhistle) July 8, 2014
This is the World Cup's red wedding.

— Dan Robson (@RobsonDan) July 8, 2014
I never thought I'd say this: Brazilian fans are leaving, before halftime, of a World Cup semifinal in their home country. It's stunning.

— Sam Borden (@SamBorden) July 8, 2014
MULLER AGAIN: Despite coming out strong, Brazil conceded an early goal to the Germans. After winning a corner, Toni Kroos served a perfect ball to Thomas Muller who finished off an easy chance to get his 10th World Cup goal. It appeared that David Luiz, the man marking Muller, was picked on the play.
Ever the polite hosts, Brazil gift Muller a goal.

— Brian Phillips (@runofplay) July 8, 2014
Thomas Muller's 10 World Cup goals takes him past Baggio, Villa, Eusébio and Vieri (all on 9). #GER pic.twitter.com/LZ9I0ErLd2

— Squawka Football (@Squawka) July 8, 2014
Thomas Muller becomes the 2nd player to score five goals in two consecutive World Cups. Miroslav Klose was the first.

— Richard Jolly (@RichJolly) July 8, 2014
KLOSE PASSES RONALDO: Germany scored their second goal of the game after Toni Kroos found Thomas Muller with a slip pass at the heart of the 18 yard box. Muller laid off for Miroslav Klose, whose shot was saved - but not smothered - by Julio Cesar. Klose calmly finished the rebound to pass Ronaldo with his 16th World Cup goal.
Miroslav Klose scores his 16th career World Cup goal, passing Brazil's Ronaldo for most in World Cup history.

— Paul Carr (@PCarrESPN) July 8, 2014
KROOS DOUBLE: With Brazil in shambles, Germany attacked. The Brazilians allowed too much space in the midfield and Kroos knew just how to attack. His first goal came off a Philipp Lahm cross and a Muller mishit while his second was created by his strip of Fernandinho off the ensuing kickoff. By the end of Kroos' romp Brazil were down 4-0.
4-0 for Germany after 25 mins! Absolutely incredible. Wonderfully clinical stuff. Brazil an overexuberant, ill-disciplined mess.

— Oliver Kay (@OliverKayTimes) July 8, 2014
KHEDIRA FINDS AN EASY ONE: Sami Khedira capped off the Germans' four-goals-in-six-minutes romp when he scored in the 29th minute. Mats Hummels made a marauding run into Brazil's half and was not met by a Brazil defender until he was 30 yards out. He found Khedira with a through ball who then played a give and go with Mesut Ozil for another simple finish.
Brazil defenders be like.. pic.twitter.com/Xcsg0GQHf7

— 2014 World Cup (@TheWorIdCup) July 8, 2014
SCHURRLE ADDS A BRACE: Second half substitute Andre Schurrle did not come in to help Brazil get back in the game. Instead he came trying to put his imprint on the game and he did so. The Chelsea man scored two goals in 10 minutes to put Germany up 7-0.
TOUCHDOWN #GER!

— Seattle Seahawks (@Seahawks) July 8, 2014
BERNARD OVER WILLIAN: There was much speculation over who would take Neymar's starting spot. Would it be Bernard or Willian? Luiz Felipe Scolari decided to go with the Lilliputian Bernard over the more physical Willian, hoping that the Shakhtar Donetsk player could provide the same attacking flair as his fallen star.
fun fact: bernard is four inches shorter than danny woodhead #BERNARDNATION pic.twitter.com/VD9aalMV3u

— Mina Kimes (@minakimes) July 8, 2014
EMOTIONAL START: We knew this would be an emotional day for the Brazilians with the standard bearer out injured. Their emotions were evident even before the game as David Luiz and Julio Cesar held up Neymar's jersey as the Brazilian national anthem was being played. We also saw Thiago Silva, out due to yellow card accumulation, pumping up Dante as his team was going through warmups.
David Luiz and Julio Cesar hold up Neymar's No. 10 shirt during the national anthem #respect #BRAvsGER pic.twitter.com/Xh7n7KguuP

— ESPN FC (@ESPNFC) July 8, 2014
#FOTO: Thiago Silva muestra su apoya a compañeros, previo al duelo contra Alemania http://t.co/DQYVUrMoeI | EFE pic.twitter.com/oGTG37kCvk

— DIARIO RÉCORD (@record_mexico) July 8, 2014
-------
MAN OF THE MATCH: Sami Khedira, MF, Germany - Could really make the case for any of the German starters, but Khedira gets the nod here. He combined superior physicality and tactical understanding of the game with incredible patience any time he got the chance to make a difference.